Yet Another Award for Wilson Learning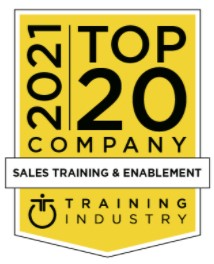 Training Industry has announced that Wilson Learning has been named among its selections for the 2021 Top Training Companies™ lists for the sales training and enablement sector of the learning and development market. For more than 55 years, Wilson Learning has been equipping sales professionals with the capability, tools, and approaches to advance the success of sales professionals around the globe.
Selection of the Top 20 Sales Training and Enablement Companies was based on the following criteria:
Breadth and quality of programs/services and audiences served
Ability to deliver training in learners' preferred modalities
Industry visibility, innovation, and impact
Strength of clients and geographic reach
Company size and growth potential
"A big challenge our customers frequently approach us with is ensuring their sales organization is enabled with the right processes, mindset, and skills needed to increase win rates and reduce missed quotas," said Ed Emde, President of Wilson Learning Corporation. "The challenge has been amplified by the need to adapt to selling almost exclusively in a virtual environment due to the pandemic. It is particularly gratifying to be selected to Training Industry's Top 20 Companies list again this year and to be acknowledged for having adapted and innovated our solution set to ensure improved sales effectiveness, whether salespeople are interacting face-to-face or virtually with their customers."
Training Industry had announced earlier in the year that Wilson Learning has been named, for the 12th consecutive year among its selections for the 2021 Top Training Companies™ lists for the leadership training sector of the learning and development market.
Kyriacos Iacovides, the Managing Director of Wilson Learning SEM said: "We are honored and proud to be the authorized distributors of Wilson Learning in South Eastern Mediterranean which includes Cyprus, Greece, Egypt, Jordan and Lebanon. For more than a decade Wilson Learning is globally recognized for providing learning solutions which add value to the lives of individuals and help businesses become High Fulfillment- High Performance organizations".
In Cyprus, the Wilson Learning solutions and services are made available to the business community by interFRONTIERS interKNOWLEDGE.